Verbum's power extends beyond pure Bible study: some of its most useful features have to do with researching and preparing homilies. And, with features like the Catholic Topical Index, homily prep has never been easier.
Verbum's new Homilies Bundle gives you insight from some of today's leading homiletics experts. You can browse hundreds of homilies on a variety of liturgical events, from Sunday and daily Masses to feast days, weddings, and more.
Of course, all these homilies are linked and fully searchable, so you can study your homily side by side with relevant Bible verses, Catechism references, and Church documents.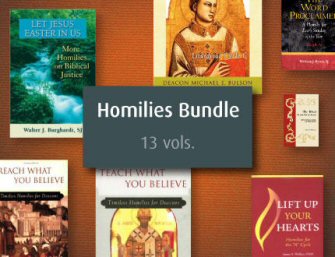 Plus, with Verbum's lectionary layout, you can open up a homily right next to the Lectionary, Roman Missal, and Bible for extra inspiration.
Homily preparation can be time-consuming. Verbum speeds it up—as you study, you'll find references to works you may not have even considered looking up, all thanks to the way that Verbum organizes your library and links it together.
Want to learn more about Verbum and homiletics? See how Verbum can help you by watching this quick video.
Take 26% off the Homilies Bundle today!