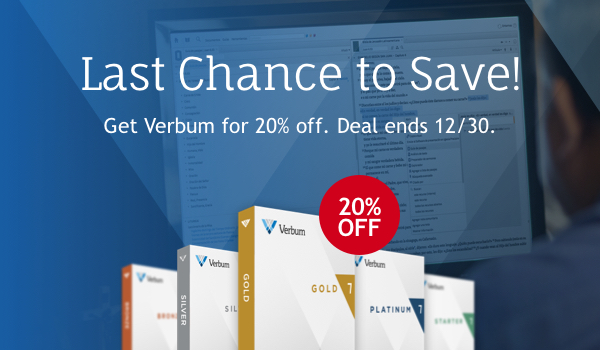 There is less than a week left to get the best deal we've offered on Verbum in years.
Get an additional Verbum 7 library by December 30 to save on top resources like:
The Fathers of the Church Series (127 vols.)—available in our top library, Portfolio
Navarre Bible New Testament, Standard Edition (12 vols.)—available in Diamond and above
Joseph Ratzinger / Benedict XVI Collection (48 vols.)—available in Platinum and above
Congregation for the Doctrine of the Faith Collection (21 vols.)—available in Gold and above
Theology of the Body Collection (7 vols.)—available in Silver and above
Ignatius Catholic Study Bible: New Testament, Genesis, Exodus, and the RSV2CE—available in Bronze and above
Verbum 7 libraries offer resources at up to 90% off the regular price, and you'll only pay for what's new to you. You always get those savings, but the chance to save 20% on our libraries ends soon. Don't miss this opportunity!
Need help selecting the perfect library? Call our Resource Experts at 877-542-7664.