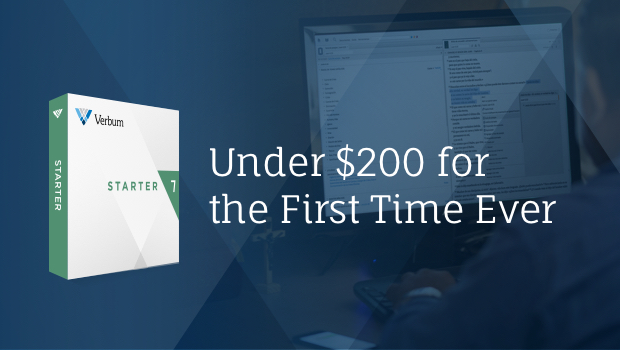 If you've ever wanted to get Verbum but have been waiting for the best possible deal, the time is now.
Through Oct. 31, first-time base package purchasers can get Verbum 7 Starter for under $200.
This is the lowest price for Verbum 7 we've ever offered online—33% off! For only $194.99, you'll get a library of over 110 titles, plus the features that make them most useful for study:
Turn to a passage and Verbum automatically opens only the most relevant resources.
Scan your entire library in seconds for insights from Scripture, the early church fathers, the Catechism, devotionals, and more.
Dive into spiritual classics and biographies, including works from Augustine, John of the Cross, and Teresa of Avila.
Already own Verbum? Share this post so your friends and family can get started with Verbum at an unprecedented discount.
Serious library, serious savings
When you get Verbum 7 Starter, you get a library of over 110 books that will deepen your study of the Tradition. If you built this library book-by-book, you'd spend over $2,800. Summa Theologica alone would cost $199.99, and the Early Church Fathers (37 vol.) would cost $165.99. But Starter includes both those resources, plus dozens more titles—all for just $194.99, but only for a limited time.
Get started today with Verbum 7 Starter. It comes with a 30-day, money-back guarantee, and if you choose to upgrade to a different package later, you'll receive a custom discount based on the books you already own. That way you don't pay for the same books twice.
This offer is for first-time Verbum purchasers only, and it won't be around long. Get Verbum 7 before the deal ends Oct. 31, and begin experiencing the unmatched power of Verbum.
Hurry—this offer ends soon!