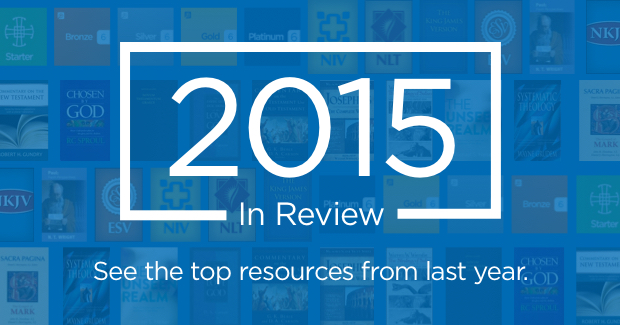 You, our valued Verbum users, have spoken! We pored over last year's data and discovered the 15 best-selling books on Verbum.com. If you don't already own these resources, you may want to give them a second look—they come recommended by fellow Verbum users, after all!
An indispensable addition to every Verbum library, this training was created by two power-user priests. With over 4 hours of video content, you'll learn to master all Verbum's powerful features.
Verbum Now subscriptions grant you immediate access to new features, datasets, and media resources as soon as they're developed. Why wait for major software releases when you can get everything now?
This collection combines a popular Catholic biblical translation (the RSV2CE) with extensive commentary on the New Testament, Genesis, and Exodus. The Verbum version is cheaper than the physical books and easier to use, making it an obvious choice for any serious student of Scripture.
This classic Catholic Bible was translated directly from the original Greek, Hebrew, and Aramaic texts. Reading it side-by-side with the NABRE or RSVCE delivers fresh insight into the meaning of every passage.
Jimmy Akin wrote a commentary set exclusively for Verbum. It's no wonder that this product was funded in a matter of days!
Pope Francis' 2013 apostolic exhortation, like all Church Documents, is a perfect fit for Verbum. With 217 footnotes and 225 references to Scripture, it'd be tedious to study it in any other format.
Fr. Devin Roza (one of the priests who recorded the Verbum 360 Training series) created this comprehensive guide to biblical typology. This work is such a boon to typological study that Scott Hahn endorsed it as "an indispensable tool for the New Evangelization."
When Darren Aronofsky's Noah hit theaters in 2014, it sparked widespread fascination with "The Watchers"—the rarely-mentioned "Nephilim" of the Bible. This volume explores these intriguing characters in light of both Jewish and early Christian literature.
This series is one of the most relevant, approachable, and distinctly-Catholic commentaries currently available. Archbishop Charles J. Chaput went so far as to say that it "should be on the shelf of every committed Catholic believer"—though it's better in a Verbum library than on a bookshelf!
If you're hungry for a more academic commentary, Verbum users love the Sacra Pagina (along with the Berit Olam, its Old Testament counterpart). This series is read and respected by Catholic and non-Catholic scholars alike.
The NABRE is, arguably, the most popular contemporary Catholic biblical translation. Aside from the original NAB, this version is the most similar to the text used in the Lectionary for Mass.
Promulgated by Pope St. John Paul II in 1992, this monumental work is a "sure and authentic reference text for teaching Catholic doctrine." Despite being included in every Verbum library, the book itself is frequently purchased by new users and non-Catholics who are curious about Church teaching.
Released shortly before Fr. Robert Barron was appointed auxiliary bishop of Los Angeles, this book features a collection of essays on contemporary Catholic theology. Bishop Barron is known for his masterful synthesis of pop culture and orthodox exposition, making this volume particularly relevant in this era of the "New Evangelization."
This series from the Catholic University of America is, simply put, the pinnacle of modern patristic scholarship. Comprising nearly 50,000 pages of comprehensively-tagged content, the Verbum version is the most affordable and efficient way to study the Fathers of the Church.
Intended for use with the New American Bible, rev. ed., this supplemental volume includes detailed commentary, reading guides, maps, and other aids to help the reader comprehend Scripture in its entirety. It's been available in Verbum for a number of years, but it remains a bestseller to this day.
To add 2015's best books to your library, visit Verbum.com/2015!