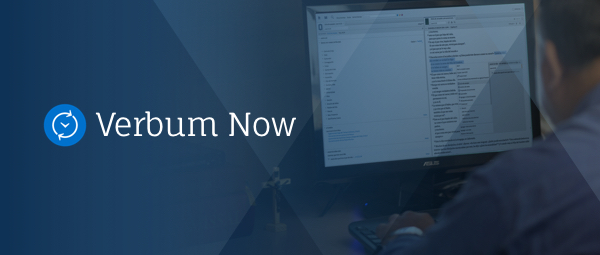 Verbum Now membership gives you amazing discounts, free books and previews, and exclusive features and media collections to use with your Verbum software each and every month!
Here's what you can enjoy as a Verbum Now member for the month of May:
40% off: T&T Clark Studies in Early Christianity (13 vols.) – Experience early Christian life, theology, and Church growth through modern scholarship in this collection. Biblical experts explore the first several centuries of Christian philosophy and thought, humility and intellect, and culture and identity. Learn how the early Church spread to Europe, and apply different methods of reading the early church fathers. Included are works on the ancient religion of Manichaeism and attitudes toward gentiles in first-century Judaism.
Free Preview: Bloomsbury Studies in Modern Orthodox Theology (3 vols.) – Verbum Now members get a free, full-access preview all month long of these three volumes examining distinct theological doctrines and issues within the modern Church. Learn how the doctrine of theosis developed through patristic and medieval authors and how its foundation applies to modern Church questions. Analyze Elisabeth Behr-Sigel's arguments in favor of women serving in the priesthood, as well as her views on feminism and Protestantism. And study the thought and theology of Maximus, now considered the culmination of the Greek patristic tradition. After the preview ends, Verbum Now users can also purchase this collection at a discount.
Free Book: Choose a free book from over 3,000 titles by using coupon code NOWFREEBOOKMAY18. Choose from classics such as Andrew Murray's Lord Teach Us To Pray to collected works like The Major Works of Anselm of Canterbury (4 vols.), Bibles, commentaries, devotionals, and more.
Don't miss out on this month's special offers. And if you're not yet a Verbum Now member, join today and get these valuable resources . . . and so much more!